Wolfgang Carstens - Awake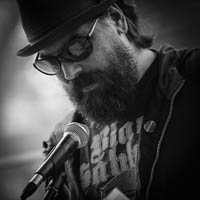 I suppose it was the Black Sabbath T-Shirt that got my attention. There weren't many poets on this day wearing band Ts. I first encountered Wolfgang as one of the readers at the Cafe Reading Series at the Edmonton Poetry Festival 2013. He immediately struck me as a little bit of character with his gruff beard, armful of poetry reading posters, press kit, Black Sabbath T-shirt and interesting poet hat.
I was to photograph him reading for the festival. We got to talking afterwards and quickly realized that we had much in common. Spoken-word-wise we were both trying to do the same thing, but each in a different way.
I mentioned the 50 words project, and would he be interested in taking part. Without a moment's hesitation he was done for it and committed. The next thing I remember is that we were in the studio recording the voicing for this video poem, "Awake".
Wolfgang Carstens is the author of poetry collections Crudely Mistaken For Life, The Abyss Gazes Also, and Factory Reject; publisher at Epic Rites Press; independent distributor at Tree Killer Ink; and organizer and host of Poets Underground, a poetry show that celebrates and showcases the best and the brightest authors currently working the marrow of contemporary poetry. More information at www.wolfgangcarstens.com.