Mark Kozub - I = Zero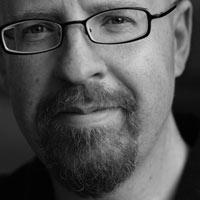 When snow still covered this frozen burg, and spring's warmth had not yet come, Mark presented me with a package of drawings in a manilla envelope. I opened it up and rummaged through them. They were beautiful. Each image in itself was suitable for framing and hanging up on the wall. Obviously these images were drawn with great care and attention. These were not for the wall. These were for the video.
There's a moment, a flash, when the poem ceases to exist solely as written word, but rather transcends to become a visual and aural medium. I remember vividly that moment when "I=Zero" transcended.
There wouldn't be a 50 words project without Mark Kozub. Without his insistence that this was a project worth doing, without his support, without his encouragement over sushi at the local Mikado, none of this would be. Thank you.
MARK KOZUB is: a) author of Weird Edmonton, b) one of the founding members of Edmonton's Raving Poets, c) a bassist/saxophonist/noodler-of-synthesizers, d) an ex-"radio guy" and e) a cartoon artist and painter.
This video is one of several video collaborations with his co-conspirator Randall Edwards (check out the weirdness of When I Was a Kid, which aired on CBC-TV).
I = Zero is part of the new bachelor, a web project Mark plans to unveil at the end of 2014.
Links: