Laurie MacFayden - Begin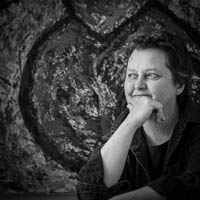 Welcome to the inaugural episode of the 50 words project.
Create a poem on the theme of "beginnings". Make it exactly 50 words in length. Have the poet come down to the studio to voice it. Compose a musical soundtrack. Produce a motion poem. Publish it on the inter-web. Repeat once monthly.
LAURIE MACFAYDEN grew up in southern Ontario and has lived in Edmonton since 1984. Her debut book of poetry, White Shirt, won a Golden Crown Literary Society award and was shortlisted for the Lambda Literary awards. A painter, poet, photographer and avid traveler, she spent more than 30 years as a sports journalist. Her work has appeared in The New Quarterly and various anthologies. When not wordsmithing or playing with light, she enjoys drinking strong coffee in faraway places. She blogs at spatherdab.com and her art lives at lauriemacfayden.com